Refine. Respectful. Optimistic
Being the face of Quartz WM, with modern and iconic façade...
From the awe-inspiring luminous welcome at the entrance, to the sophistication of the modern interior ...
From the high ceilings, lush landscape, to flowing, voluminous interior...
FREEHOLD
FREE Shuttle Bus to LRT station
Walking distance to LRT station
Township planning with central garden
2-5 bedrooms lifestyle living
Low density 551 units spread in 3 towers
Expected completion 2025
Altris Wood-Inspired Lobby 1
Altris Stone-Inspired Lobby 2
Inspired from the rough stone texture, we used tones and textures to highlight the intensity of the hit trainings and ensuring the gym goers the comfortability and the safety.
Inspired from the play of tree houeses, the tree house nursery resembles a tree house concept for children to play under the canopy of the tree in a kid friendly environment where parents can overlook thier kids plating on the outside.
We wanted to create a space with the same level of comfort as a lounge or living room, where people can do their work or even mingle with others at the co-working space. The design we did had 2 distinctive colours to segregate between work and play while maintaining earthly colors to keep the design of the space cohensive.
Enjoy peace and tranquility. Overlooking the swimming pool while working out.
Being located at the highest floor, the sky lounge has the palette of brown, grey and white. Creating 2 contrasting design in the space, we designed the sitting area in a lighter tone to create an impression that is floating up in the sky.
Special unit: Duplex, Pool Deck & Garden unit
Duplex unit enjoy double volume ceiling height in Living Hall. Young professionals who love to lead a simple and fuss free life style.
Pool deck unit enjoy the direct access to the swimming pool. Private pool deck resort lifestyle living.
Garden unit enjoy bigger garden space for family outdoor activities and garden area.
Type A1 - 646sqft (2R1FB)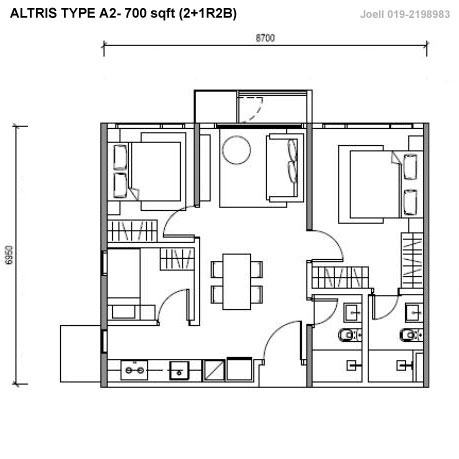 Type A2 - 700sqft (2+1R2B)
Type B - 754sqft Duplex (1+1R2B)
Type B1/B2 - 786sqft Duplex (2+1R2B)
Type C4 - 1012sqft (3R2B)
Type E1 - 1443sqft Duplex (5R3B)
Type D5-D - 2272sqft Duplex Pool Deck (4R3B)
Contact us 019-2198983 for Virtual Showroom link
Showroom appointment or Enquiry